Introducing the all new, sleek and simple Cool Timer. We think it's so cool that we even considered changing the name to "Awesome Timer".
Cool Timer does a lot in just a little space with a small memory footprint, using very little system resources and taking up very little screen real estate.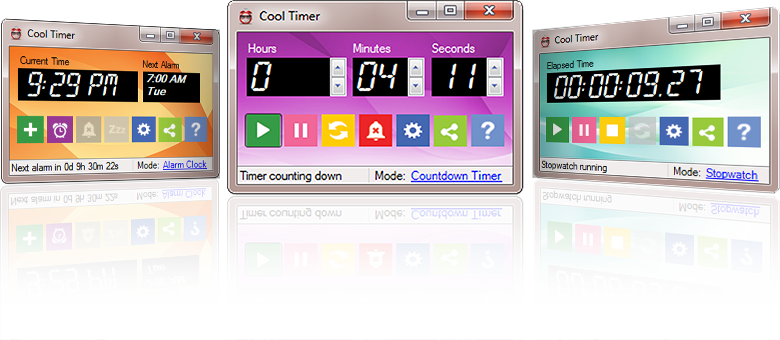 Recent Changes:
Key Features
Cool Timer can be used in three different modes, either as a countdown timer, as an alarm clock, or as a stopwatch. You can quickly and easily switch modes whenever you want and even have the program start in any of the 3 modes you specify.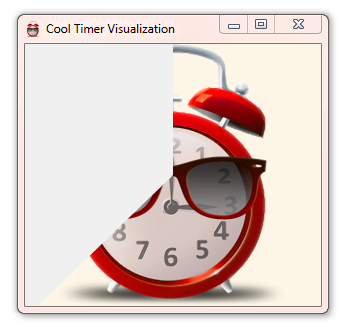 In countdown mode, the program acts just like an oven timer. You can use it for cooking, excercise, taking a break, limiting kids' time on the computer, etc. A unique feature is the "visualization" option which visually represents the time passage by either gradually "wiping away" or revealing an image in a radial sweep pattern in sync with the time as it counts down. This is great for small children who can't yet comprehend the concept of digits counting down or if you would just prefer a quick visual representation of how much time is left when the timer is counting down. This feature can be toggled on or off quickly and easily via the program's "Tools" menu or a shortcut key on your keyboard.

Cool Timer can play any of 3 cool beep sounds when time expires in countdown mode or as a wake-up alarm in alarm clock mode. It can even optionally display a cool, LED light board style text message that you specify when time expires to remind you why you set the timer in both alarm clock and countdown mode.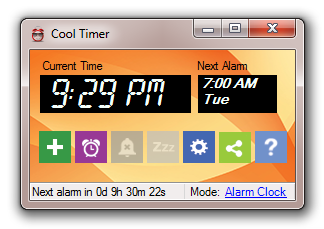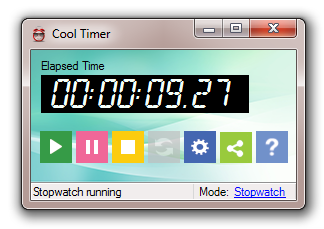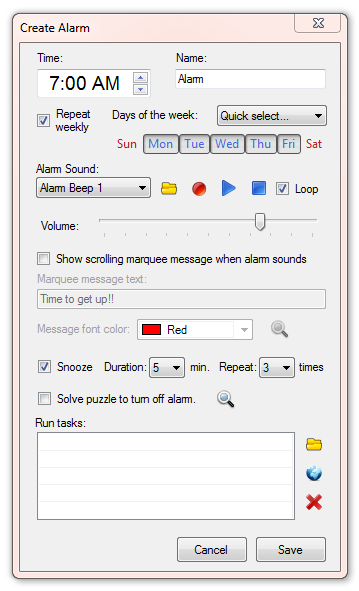 In alarm clock mode, you set a specific time of day and day(s) of the week that you would like the alarm to go off. When it goes off, you can click the snooze button to automatically reset the alarm to go off a short time later to allow you to sleep a little longer.
When used in stopwatch mode, the program can track how much time you spend on a project for which you're being paid by the hour or similar situations. There is also a lap time feature which allows you to pause the counter and display the time at which it was paused while still counting up in the background. Stopwatch time is accurate to hundreths of a second.
There is also an option to display the timer's digits in full screen mode making them very large and easily readable from across the room.
Download Cool Timer absolutely free now.
Want even more functionality and versatility?
Check out our all new paid version, Cool Timer Deluxe
, featuring even more beautiful background selections, ability to set unlimited alarm clock alarms, record your own sounds to use as alarms, and much, much more.
Version Comparison
| | | |
| --- | --- | --- |
| Features: | Cool Timer Deluxe | Cool Timer Free |
| Number of alarm clock alarms allowed to be set | Unlimited | 1 |
| Save and reload preset countdown times | Yes | No |
| Create shortcuts on Desktop to start the program with preset countdown times already set | Yes | No |
| Show scrolling marquee message when alarm goes off | Yes | No |
| Automatically adjust system volume before alarm sounds | Yes | No |
| Start automatically with Windows | Yes | No |
| Prevent computer from hibernating when alarms are set | Yes | No |
| Set alarm clock alarms for any dates in the future | Yes | No |
| Run unlimited tasks automatically when alarm goes off | Yes | No |
| Number of window background image selections | 35 | 4 |
| Number of built-in alarm sounds | 39 | 3 |
| Allow alarm sounds to gradually increase in volume so you are not startled awake | Yes | No |
| Require yourself to solve a puzzle in order to turn off alarm. | Yes | No |
| Visualization image selections | 52 built-in or use your own | 1 |
| Use any sound files on your computer as alarms | Yes | No |
| Record custom alarm sounds | Yes | No |
| Create Windows playlists from within the program to use as alarms | Yes | No |
| Run mutiple instances of the program | Yes | No |
| Priority support | Yes | No |
Home | About | Contact | Download | Purchase | Privacy Policy | Terms of Service
© Harmony Hollow Software