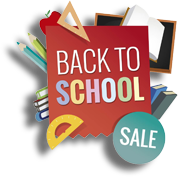 Back-to-School Special!! Get the deluxe versions of The Hat OR Cool Timer for only $5. That's 50% off the regular price! Click here to buy The Hat Deluxe or here to buy Cool Timer Deluxe.

Get even more savings by buying them both in a bundle for only $7.50! Click here to get this awesome deal now.
Windows Software

Collector's Companion
Get the jump on those hard-to-get pop-culture collectible items as soon as they're released before they sell out.

Cool Timer Deluxe
Just like Cool Timer only MUCH cooler! Set unlimited alarms, record your own alarm sounds, run unlimited tasks automatically when alarm sounds, and much more. Plus, no bundled partner offers during installation, ever. Free updates for life and priority support.

Cool Timer
Time anything! Let your kids know when it's time to get off the computer, let yourself know when it's time to take a break, when the cake is done, when it's time to wake-up, etc. with several cool alarm sounds and all new visualization feature.

The Hat
Need to decide a random order in which your kids or students are to do projects or activities? Just like pulling names from a hat, only much easier and way more fun. Cool animation and sound effects, too!

Android Injector
Install apps on your Android powered phone or device via USB from your computer without having to get them through the Google Play Store.

RarMonkey
Handy, fun, and free...just like a monkey. OK, monkeys aren't free, but RarMonkey is! This powerful utility is just what you need to unpack those pesky Rar files.

Screen Highlighter
Highlight or annotate anything on your screen on the fly. Great for teachers, presentations, etc.
Website Templates

Premium Web Templates
Build a smart, attractive, polished-looking website in minutes with a professionally designed, fully customizable template from our template catalog.
---
Home | About | Contact | Download | Purchase | Privacy Policy | Terms of Service
© Harmony Hollow Software